You are invited to join us on a friendship walk which will highlight all Sound Steppers walks from Everett to Shoreline. Please join us for some or all walks this year.
You can click anywhere on the table below to view in full-screen.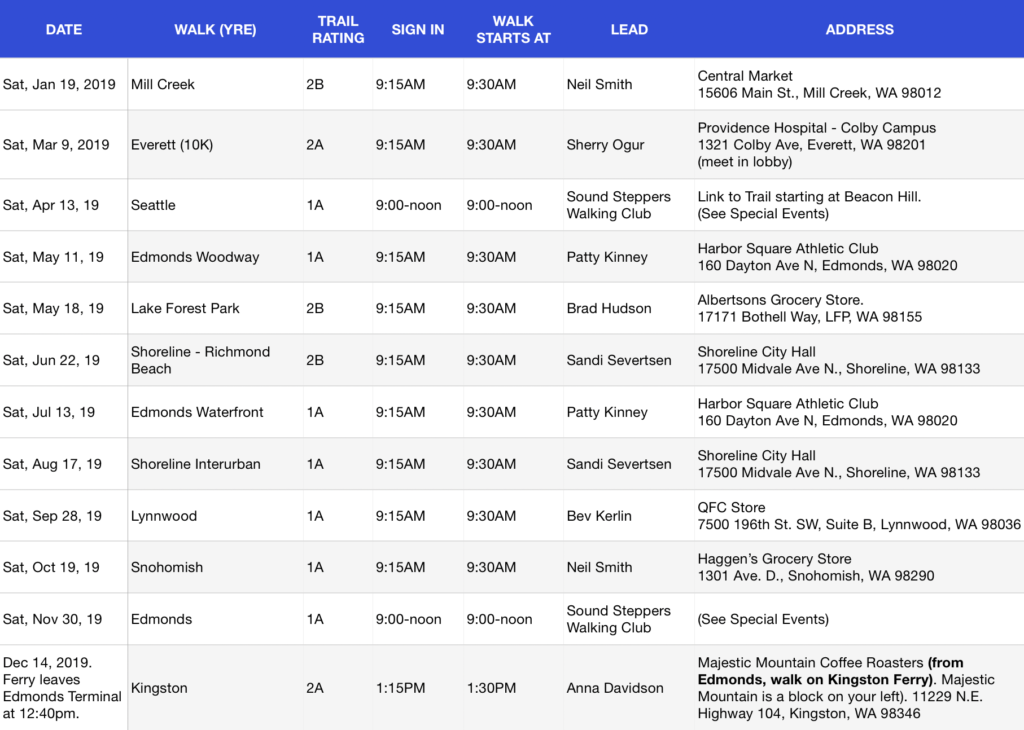 ---
Special Events
April Event
April 13th and 14th, 2019
Start Times: 9AM – Noon
Distance: 10K (6.2 miles) and 5K (3.1 miles)
Start Location: Capitol Hill Link Light Rail Station – 140 Broadway East entrance
Finish Location: Both 10K and 5K end at Link Light Rail Stations which you will need to take back to the start at Capitol Hill.
Details: Walkers are given directions and maps. This is not a guided walk.
Be sure to bring your Orca, debit, credit card or cash to pay for Link Train transit. The cost is $2.25 each way or $1.00 for age 65+.
November Event
Saturday, November 30, 2019
Start Time: 9AM – Noon
Finish Time: 3:00PM
Distance: 10KM (6.2 miles) and 5KM (3.1 miles)
Location: United Methodist Church, 828 Caspers Street, Edmonds, Wa 98020